Blood Tests can be done at the following locations. Please make sure you take your form with you.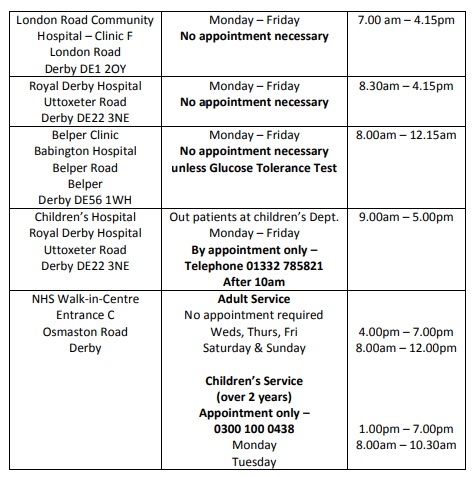 The doctor or nurse has advised you to have a blood test. If this is a FASTING
BLOOD TEST (usually a fasting glucose, glucose tolerance tests or cholesterol
test), they will have told you.
Procedure for fasting blood test
You should have nothing to eat or drink, (other than plain/unflavoured water)
for at least 12 hours before the test (this includes chewing gum & sucking
sweets).
If you are on regular medication, which you can put off taking before your test,
then please do so. However, if this is not possible, please advise the person
taking the blood test of the medication so that it can be recorded on the form.
Generally non fasting bloods do not need any specific instructions, unless the
doctor or nurse tells you otherwise.
Blood test results
If you have signed up for our SMS text messaging service, the doctor may send
a message with your results. If you haven't yet signed up for SMS and the
doctor wishes to arrange an appointment, the reception team will contact you.
If you would like to discuss your results and have not heard anything, please
contact reception.